Details
Start Location
- Corner of The Trongate and Sackville Street, Killingworth.
RESULTS - Click here

Click here for the 2020/21 MTBO Calendar

If you would like help with an Event or two - SMS Greg Bacon 0401 889 688, email: This email address is being protected from spambots. You need JavaScript enabled to view it.
If you'd like help from an experienced course setter or as an experienced course setter would like to help, please contact Greg as above.
Details
Covid19 Procedures are continually being UPDATED
The NSW Government has recently issued updated COVID recommendations for community sport. Orienteering NSW has reviewed the updated recommendations and updated its COVID Safety Plan. You can view the updated plan HERE.
A revised ONSW COVID-19 Safety Plan has been released.
allow regional orienteers to attend events in their local Regional District and neighbouring clubs' Regional District;

reduce the number of Districts in Sydney from eight to five;

give more guidance on assembly area layout;

emphasise the need to 'arrive, orienteer, go home' by specifying a flow of competitors in the assembly area.
The NSW Government guidance for community sport which aims to reduce the mixing of participants from different regions had an initial period of six weeks. Fingers crossed that it ends in late September.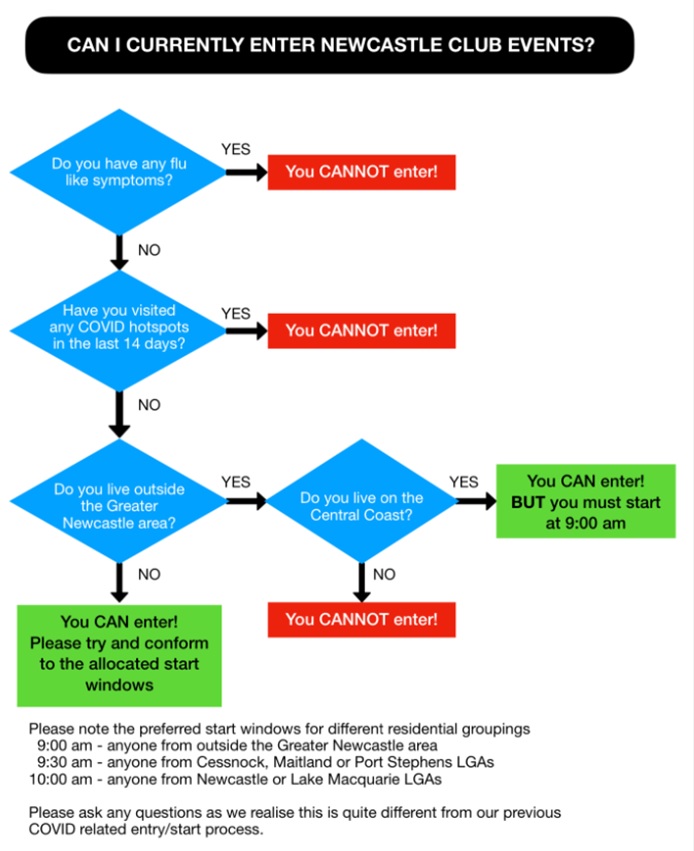 EVENTOR setup

1. Phone number, postal address, e-mail address and SI Stick details in Eventor. Ensure that your phone number, postal address, e-mail address and your current SI Stick details are entered in Eventor, ensuring that the SI Stick listed is the one that you will be using for the Event. This will assist with infection tracing (if applicable). You may NOT be able to compete if these Details aren't listed.
2. Pre-enter via Eventor - preferred option. To avoid the possible spread via money handling, filling in grey slips and other activities - please pre-enter and pay for the Event via Eventor for all Events. Go to https://eventor.orienteering.asn.au/Events
NOTE: IF mobile coverage is available you will be able to pre-enter via your mobile phone at the Event (as long as it is within the Start time window).
3. Non-competing details. All non-competing attendees will need to have their details recorded for contact tracing purposes - this informtion can be entered in Eventor for each event..
If you are new to orienteering - please click here to Register so you can pre-enter for the Events.
Newcomers - we can also take your details and enter you on the day. :)

A detailed list of Covid19 Procedures can be found HERE and will be available at the Event.
Please check closer to the Event date for any changes or special requirements re Covid19.
Details
It is with much sadness we announce the death of Dot Wright. Dot was the wife of Allan Wright founding member and stalwart of the club in its growth years. Dot may not have taken to the bush very often, though she and Allan were avid bushwalkers. But her contribution to the club was immense. Phone enquiries for information about club activities were ably handled by Dot and she was a great advocate for our sport. She supported their sons Ian and Neil in the sport, and was often in charge of Enter on Day duties for our State and local events. The Hunter Schools Orienteering Championships particularly in 1980s and 1990s were spear headed by Allan and Dot with Dennis Lyons course planning. However her biggest contribution was to support Allan in the production of the Club Newsletter - in the times when it was a printed production, needing to be collated, stapled or folded, enveloped and posted. Dot was always in the thick of the action. Our thoughts are with Allan and the family.
Details
From Ian Dempsey we have some orienteering map Jigsaw puzzles that he has come across:
Got time on your hands? Try these orienteering map jigsaws.
Level 1 = https://www.jigsawplanet.com/?rc=play&pid=2e959bf45992
Level 2 = https://www.jigsawplanet.com/?rc=play&pid=1e5539100c03
Level 3 = https://www.jigsawplanet.com/?rc=play&pid=2ea6a9c502e7
The bottom left toolbar allows display of the full original image (with zoom options). Try zooming your browser for a clearer view of the jigsaw puzzle.
From the top menu bar, use the explore, popular searches functions to look for more orienteering maps. What the heck, be bold and try other non-orienteering searches.
If you find any other orienteering related activities please share. Email me at This email address is being protected from spambots. You need JavaScript enabled to view it. or message us on Facebook