NOY8 (incorporating 2023 Hunter Valley Championships) - "Kitchley Green"
Kitchener - Sunday 24 September 2023
Start times: 9:30am to 11:30am Course closure: 1:00pm
Map: "Kitchley Green". Scale 1: 10 000. 5 metre contour interval.
Course planner: Denis Lyons. Vetter: Jim Lee.
Directions: From East/Northeast/South - travel to Leggetts Dr near Mulbring and turn west into Lake Rd at the roundabout. After 7.3km turn left into Kearsley Rd and travel 2km to Abernethy. Turn right into Murray St (which becomes Abernethy St) and travel 2.8km to Kitchener. Turn right (north) at the junction onto Cessnock St and travel 850m. From Cessnock - head south on Vincent St (the main street) which becomes Quorrobolong Rd and travel approximately 3km to Kitchener.
Parking: Park at right angles to Cessnock St on the WESTERN side along a powerline which is usually pretty clear. Leave the section opposite the hotel clear for patrons and other users. Move as far off the road as possible.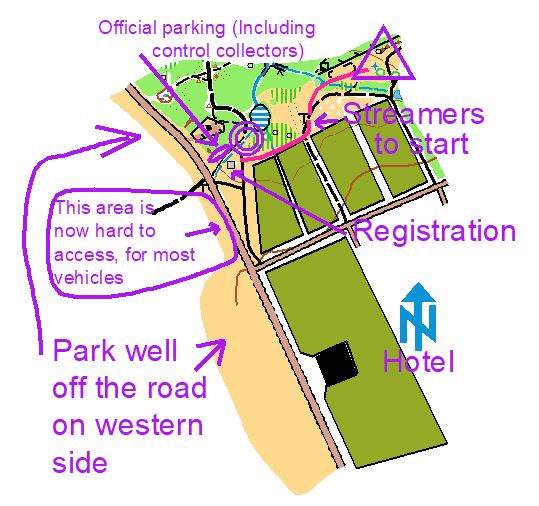 Assembly/Start: The assembly area is at the northwestern edge of the residential section of Kitchener, approximately 250m north of the Khartoum Hotel. The start will be approximately 260m east of the registration. Follow a streamer trail. The Start Triangle will be at a bend in the Kitchener East Trail. This trail, which runs diagonally across the map, will be referenced in the safety bearing instructions.
Terrain: The area is part of Werakata National Park between Kitchener and Kearsley. There are large sections of thick Tea Tree which have not been mapped in any real detail, plus many other forms of light and dark green. There is good detail in the gullies and watercourses which run off the steeper section of the map
Courses: NOTE - Entry will be by Hunter Valley Championships class not by course. The course will be determined by which class you enter. Click here for separate info on the Hunter Valley Championships classes.
Course

Length (km)

Climb (m)

Controls

Difficulty

Very Easy

2.0

35

11

Follows tracks and streamer trails.

Easy

2.4

40

11

Controls near to tracks/fences but you need to know where you are before turning off.

Moderate Short

2.1

35

9

Moderate cross country navigation to prominent features with nearby catching features.

Moderate Long

3.1

50

10

Hard Short

3.2

85

12

Difficult navigation.

Hard Medium

5.5

135

13

Hard Long

7.1

190

17
Control descriptions: will be printed on all maps with copies also available at the assembly.
- Trail bikes and 4WDs use the area. If you hear them coming move well off the track and out of their way.
- The area does contain some spikey vegetation hidden in areas of light or dark green.
- The Very Easy, Easy and Moderate courses will use a track beside the top of an old railway cutting. The top of this cutting will be marked with continuous red & white tape. Stay on the track for this section.
- The position of all streamer trails will be shown on all maps with pink dashes.
- Three of the streamer trails are only relevant to the Hard courses but are not compulsory.
- No water will be provided at the assembly area or on the courses. Please bring/carry your own.
- Help with collecting controls following the event closure will be needed and very much appreciated.