NOY7 - "Heart-Rate Hills" - Ryhope - Sunday 13 August 2023
Start times: 9:30am -11:30 am Course Closure: 1 pm.

Course planner: Ian Dempsey.
Directions and Parking: Travel to the Lake Macquarie Memorial Park, 405 Cessnock Road, Ryhope. Enter the Park and park ONLY in marked parking areas shown below. DO NOT park on grassed areas. Overflow parking is along the lane outside the park just west of the main entrance.
From parking, make your way to the southern boundary of the Park and the event assembly.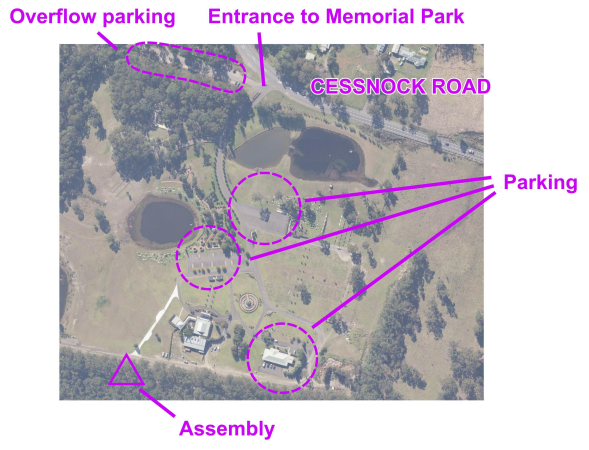 Map: "Heart-Rate Hills". Scale 1:10 000. 5 metre contour interval.
Terrain: Undulating to steep forest with intricate parallel watercourse and minor rock detail. There are patches of slow run and walk in the lower gullies, but most of the terrain is quite runnable. There is a good track network.
Special map symbols:
Brown triangle = termite mound. Green cross = tree root mound. Black cross = car wreck.
Courses:
Length

(km)

Climb

(m)

Controls

Difficulty

Very Easy

1.9

60

9

Follows tracks with some taped legs (blue and white tapes).

Easy

2.0

70

9

Most controls a short distance from the line feature. Some taped legs (blue and white tapes).

Moderate Short

2.7

80

11

Many cross-country legs with route choice and strong catching features.

Moderate Long

4.2

170

13

Hard Short*

3.0

55

15

Difficult navigation requiring fine map-reading skill, compass bearings and route choice

Hard Medium

4.3

160

16

Hard Long*

5.8

200

20
*Hard Short and Hard Long have a map flip with courses printed on both sides of the map.
Control descriptions are printed on all the maps with copies also available at the assembly.
Notes/Hazards:
- There are subsidence cracks in some parts of the area. Known cracks are shown with the non-standard map symbol of lines of purple dots. Scan the ground in front of you to avoid this hazard.
- There are short sections of metal star pickets in the ground that mostly correspond with the narrow yellow marked survey lines on the map. Although the survey lines are overgrown, they're retained on the map to show where you may find these metal posts. We've done our best to indicate these posts in the field with pink surveyor's tape, but can't guarantee we found them all.
- Move off tracks if you encounter trail bikes.
No water will be provided at the assembly area or on the courses. Please bring/carry your own.
Help with collecting controls following the event closure will be needed and very much appreciated.