Covid19 Procedures are continually being UPDATED
The NSW Government has recently issued updated COVID recommendations for community sport. Orienteering NSW has reviewed the updated recommendations and updated its COVID Safety Plan. You can view the updated plan HERE.
A revised ONSW COVID-19 Safety Plan has been released.
allow regional orienteers to attend events in their local Regional District and neighbouring clubs' Regional District;

reduce the number of Districts in Sydney from eight to five;

give more guidance on assembly area layout;

emphasise the need to 'arrive, orienteer, go home' by specifying a flow of competitors in the assembly area.
The NSW Government guidance for community sport which aims to reduce the mixing of participants from different regions had an initial period of six weeks. Fingers crossed that it ends in late September.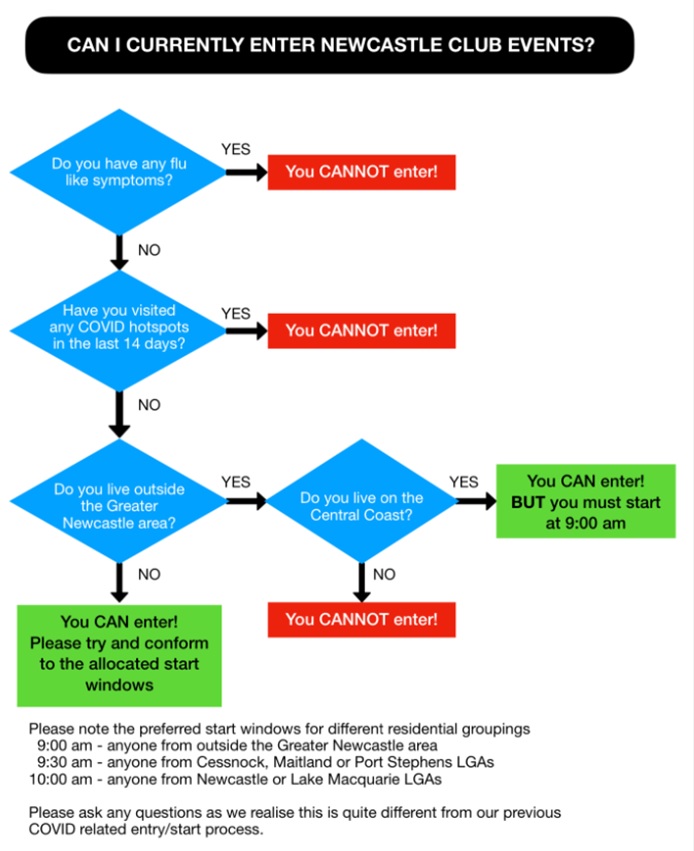 EVENTOR setup

1. Phone number, postal address, e-mail address and SI Stick details in Eventor. Ensure that your phone number, postal address, e-mail address and your current SI Stick details are entered in Eventor, ensuring that the SI Stick listed is the one that you will be using for the Event. This will assist with infection tracing (if applicable). You may NOT be able to compete if these Details aren't listed.
2. Pre-enter via Eventor - preferred option. To avoid the possible spread via money handling, filling in grey slips and other activities - please pre-enter and pay for the Event via Eventor for all Events. Go to https://eventor.orienteering.asn.au/Events
NOTE: IF mobile coverage is available you will be able to pre-enter via your mobile phone at the Event (as long as it is within the Start time window).
3. Non-competing details. All non-competing attendees will need to have their details recorded for contact tracing purposes - this informtion can be entered in Eventor for each event..
If you are new to orienteering - please click here to Register so you can pre-enter for the Events.
Newcomers - we can also take your details and enter you on the day. :)

A detailed list of Covid19 Procedures can be found HERE and will be available at the Event.
Please check closer to the Event date for any changes or special requirements re Covid19.